DISCOVER MENORCA FROM THE SEA
All the boat trips in Menorca are spectacular. From Mahón there are two possible routes to choose for visit. The North Trip and the South Trip. In function of the sea and weather conditions or in function of your preferences, you can choose one or the other. The South Trip you will find a warmer landscape, whiter sands and clearer waters. The North trip is characterized by a wilder and darker landscape. It is less populated and the beaches are more virgin. Both options are perfect to visit with your rental boat!
The Northern Route, the best option if you are looking calm and pure nature, will not leave you indifferent, it has a special landscape.
Leaving the emblematic Port of Mahón, just past the two beacons of the exit channel heading North, we recommend you reach the area of Addaya or very far away Fornells, it isenough to spend the day visiting the North-East coast of Menorca.
Our favourite beaches of the this trip are: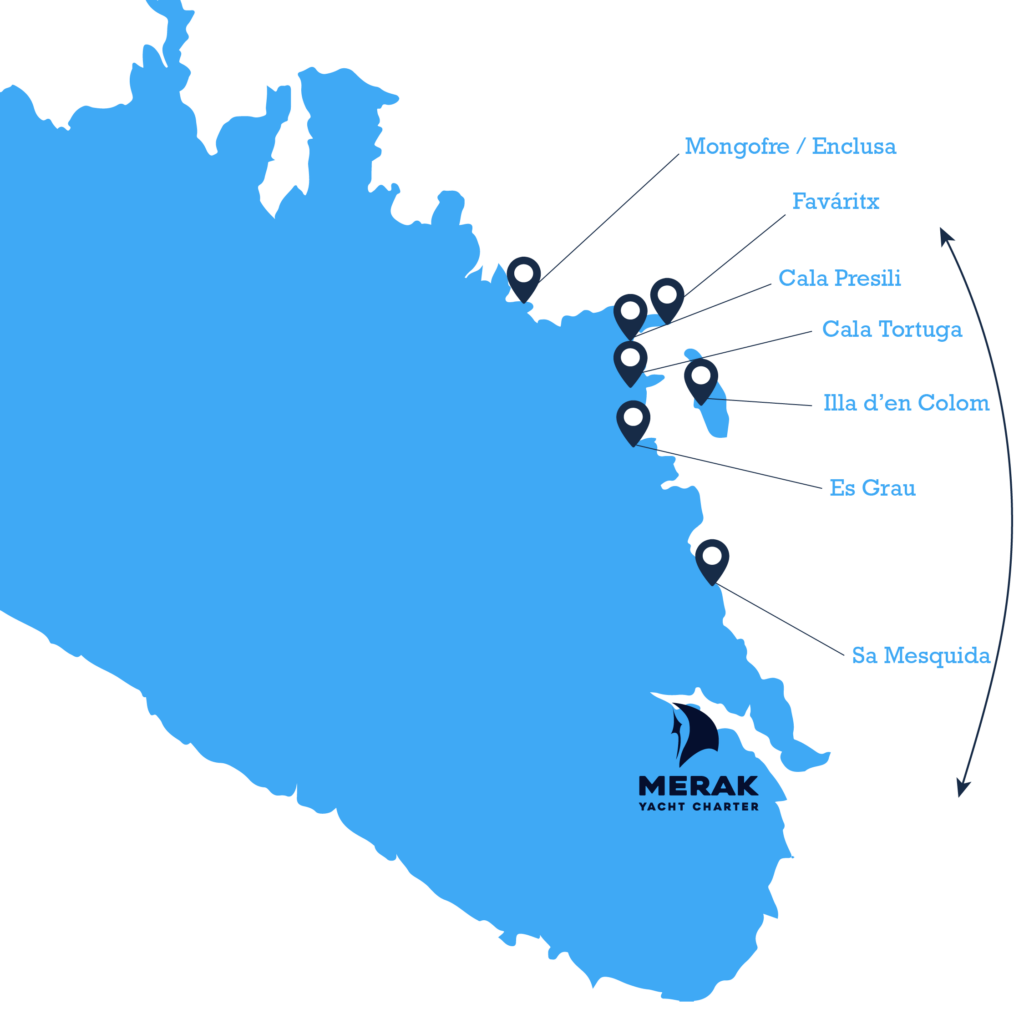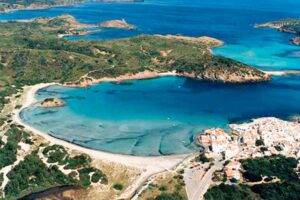 Es Grau
Es Grau, is a beautiful fishing and traditional village with charming whitewashed houses. In the village we also find the beach d'es Grau, a very sheltered are from the wind.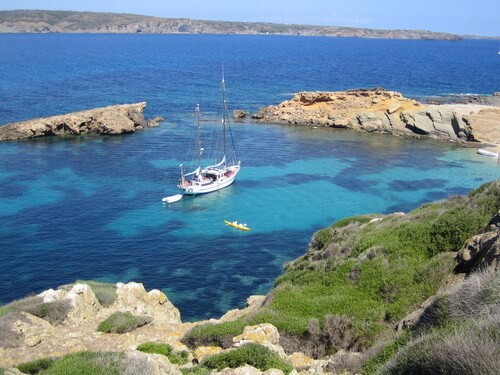 Illa d'en Colom
Just in front of the bay of es Grau we find the spectacular small island, "Illa d'en Colom", one of the most paradisiacal places in Menorca. There is not doubt that this island is an obligatory stop. There are two spectacular unspoilt beaches on the island. Be careful, anchoring is totally forbidden in poseidonia, you will find anchoring buoys.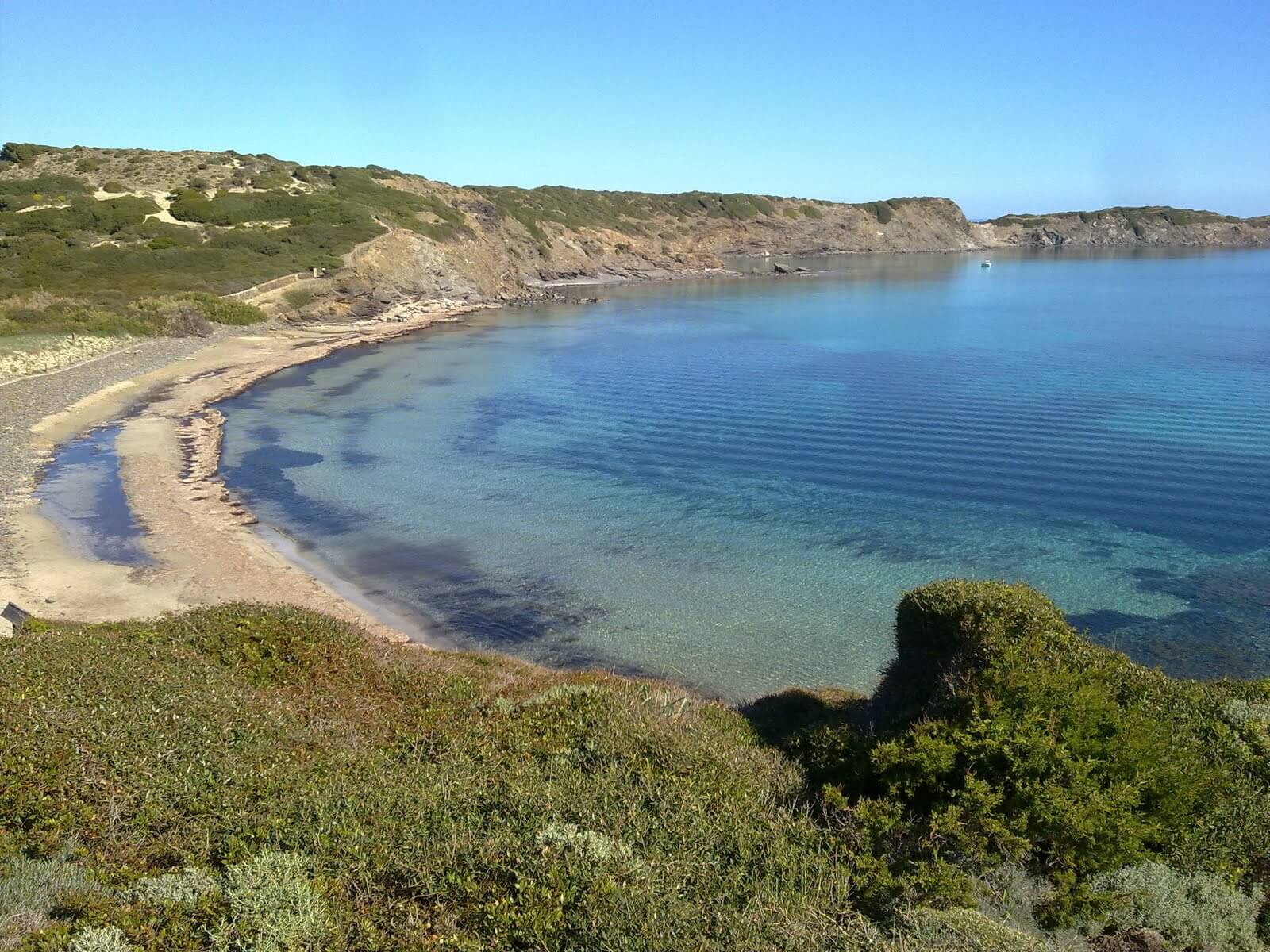 Cala Tortuga
if we still heading North direction, once passed Isla de Colom and befor arriving at the lighthouse, we find Cala Tortuga, a very famous virgin beach in Menorca, with white sand even with a rocky bottom.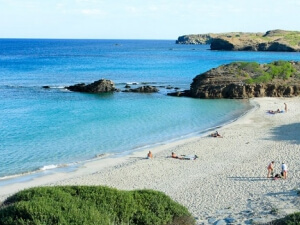 Cala Presili
It is the last one incredible beach before arriving to Favaritx's lighthouse, sheltered and very quite with rocky bottom. Like Cala Tortuna, Cala Presili is a beach we recommend you to visit, you will be surprised by the trasparency of its waters.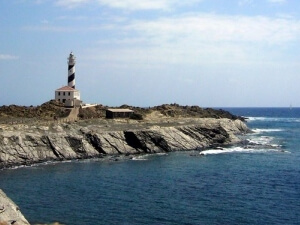 Faváritx lighthouse
We passed the Faváritx Lighthouse, one of the most famous on the island and beautiful to see from the sea. Behind the lighthouse, if the sea is calm, we will find a nice corner to stop. Be very careful with the rocks in the bottoms!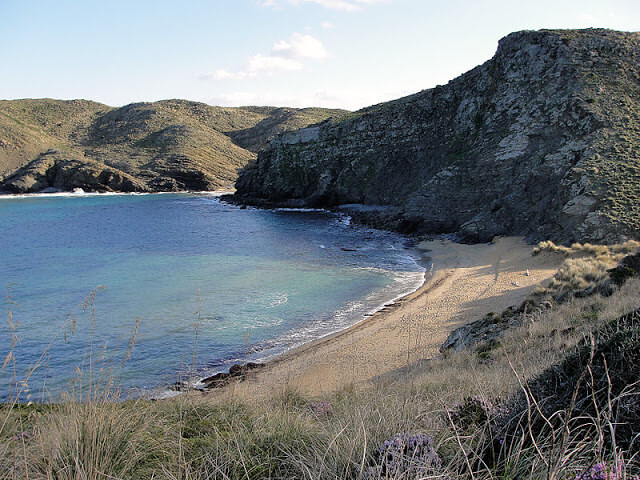 Cala Enclusa and Mongofre
Once passed Favaritx and just before reaching the natural port of Addaya, we find these virgin beaches. Cala Enclusa and Mongofre are very quiet, due to its diffult access from land.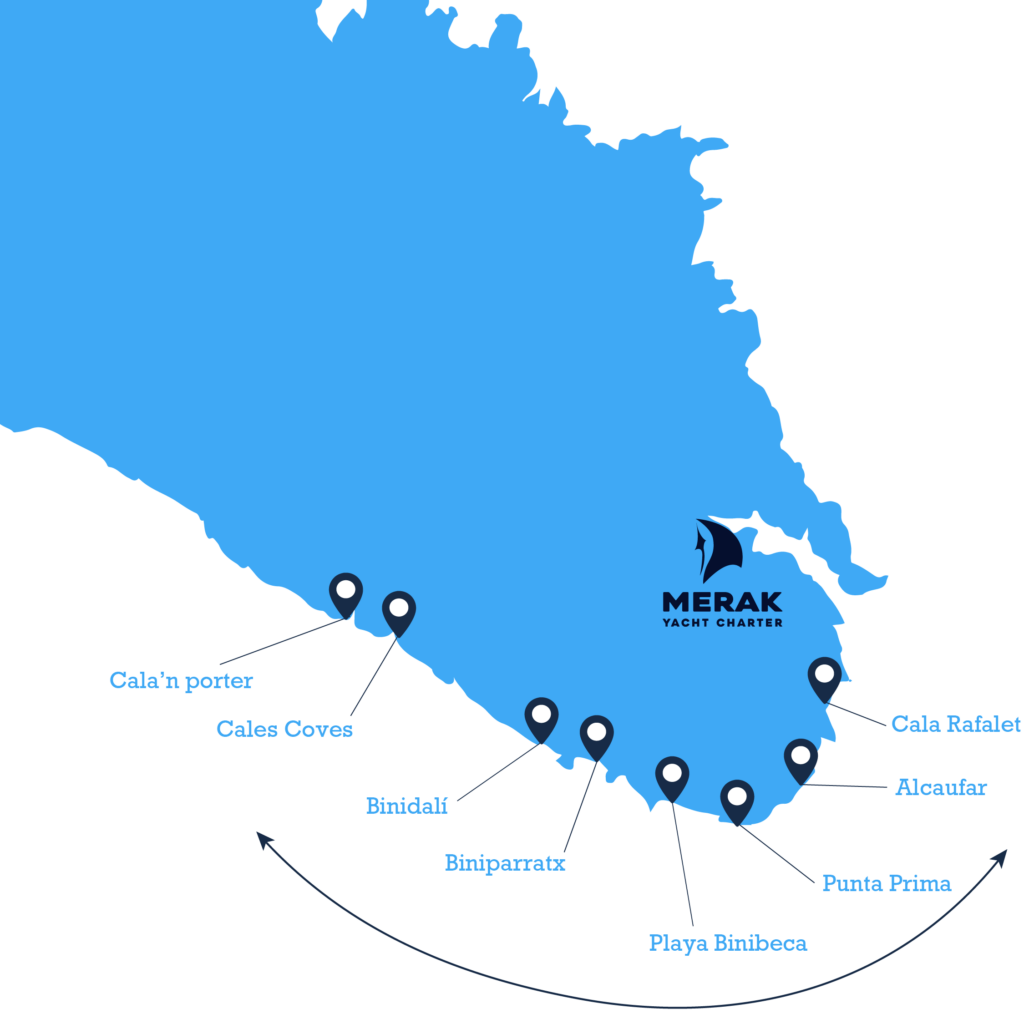 If you chose to visit the south coast you will enjoy a warm landscape, white sands and crystal clear waters. This area is more urbanidez compared to North one. Just next to Mahón, we can find a landscape composed of small coves, houses and fisherman villages, very typical in Menorca. As we move away from Mahon, we will find areas and beaches with more tourists, such as Santo Tomas, Son Bou or Binigaus.
Our favorite beaches on the South Route: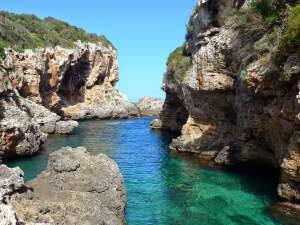 Cala Rafalet
It's a small corner we'll find before reaching Salgar. It is a very small and narrow beach but with a lot of charm. At the entrance we'll find a cave that you can visit with the boat , taking a lot of care!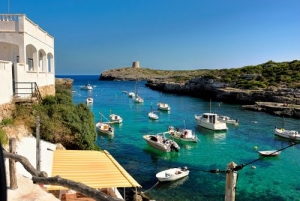 Alcaufar
a charming little fisherman village with a sandy beahc, an ideal place to make the firt stop with your boat. Just to the right of this we will find Calo Roig, a very little crowed area.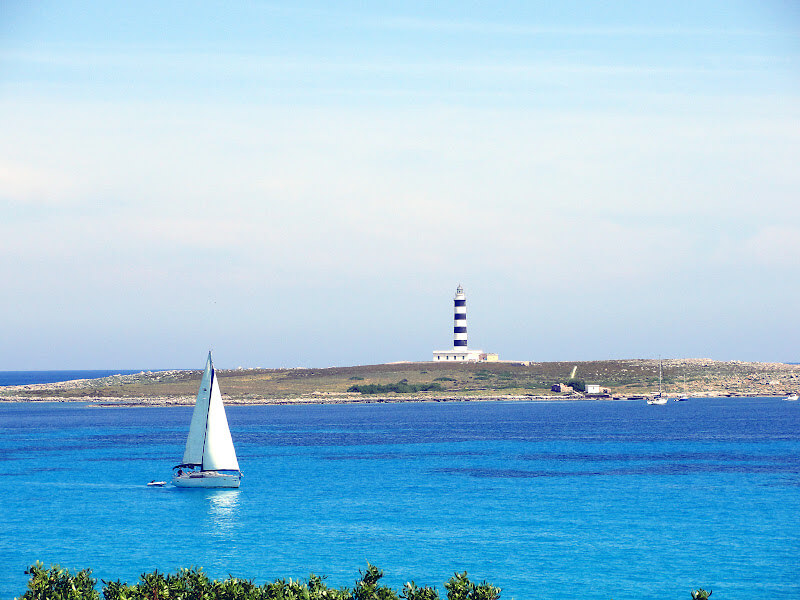 Playa Punta Prima
At the southern point of Menorca we find Punta prima Beach, characterized by a turquoise blue color and an incredible crystalline water. Right in fron of Punta Prima we can see "Isla del Aire" and its lighthouse, an idyllic landscape absorbed by blue water.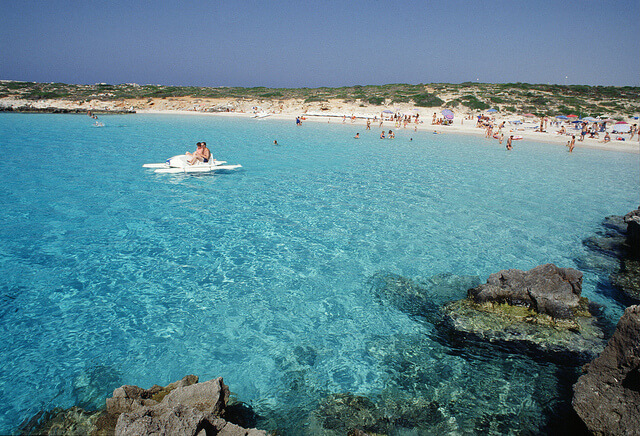 Playa de Binibeca
Right next to the beautiful town of Binibeca. The beach usually has many boats anchored in summer, but it is a perfect place to anchor, very sheltered and with a sandy bottom.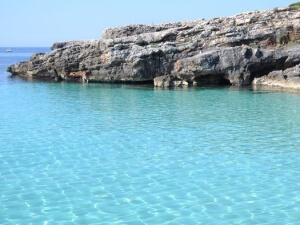 Binidalí
Just the next cove once passed Biniparratx, characterized by a beautiful turquoise blue color, the cove is very small. Attention, be very careful with bathers in the area.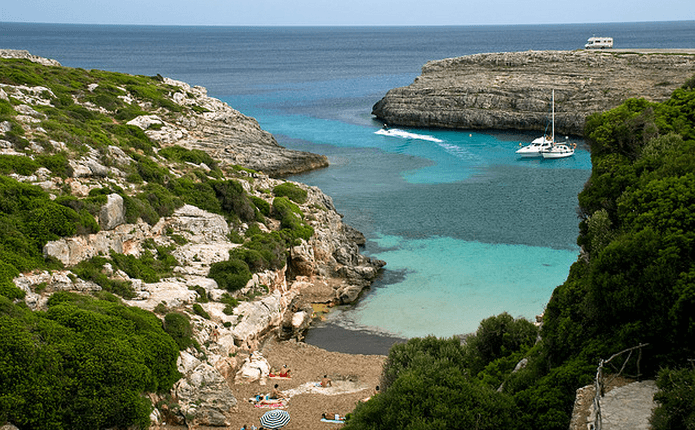 Biniparratx
Highly recommended stop on this beach. It is a corner with one of the most special charm. Crystal clear waters, beautiful houses on its cliffs and the green of the pines that make it the ideal landscape. Perfect for a quiet bath, in the middle of summer there are usually many boats and the cove is narrow.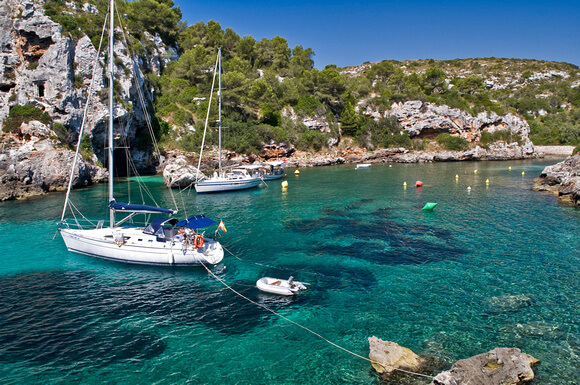 Cales Coves
One of the most favous beach of Menorca, a cove that you have to visit. Very sheltered due to its shape, in its cliffs we find curious caves formerly inhabited. The mixture of the color of its waters is between green and blue is unique.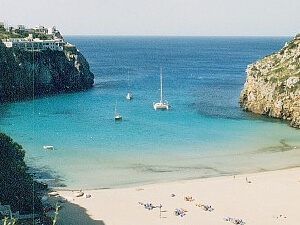 Cala'n Porter
Beach well known for the famous discotheque "La Cova d'en Xoroi" that we will see on its cliff. The beach is sandy and turquoise blue, wide and easy to anchor. It is at this point that we would recommend you the end of the route to the south-east of Menorca.